Selena Gomez Debuts Neck Tattoo In Celebration Of Rare
Selena Gomez is not a rare sighting in tattoo parlors.
The singer debuted her newest ink on Instagram on Wednesday night,and it's a tribute to her latest album Rare. The star shared a video and photo to her Instagram that showed her in New York City's Bang Bang tattoo parlor, where she has frequently gotten tattoos in the past.
The tattoo itself is the word "rare" written in the same lettering as her album's cover art. It's located on the right side of the 27-year-old's neck, just below her ear and close to her jawline. She's also wearing one of the tye-dye Rare hoodies in the post.
For her caption, Gomez wrote, "Did it again @bangbangnyc rare."She also included the butterfly emoji, which was a shout out to the "Rare" music video.
Since the 13-track album's release on Jan. 10, Gomez has been explaining the importance the album's title, namely how it boosted her confidence.
In an interview with Spotify the day before the album's release (her first in four years), Gomez said the word helped her self-esteem.
"I just felt like that was me if that makes sense," she revealed."Obviously, I've had a lot of self esteem issues in the past. I still struggle with confidence and you know, it's going to be something that I'm always working on. Rare made me feel incredible. That name was so important to me the moment I heard it."
"That to me is such a special word," the pop star continued. "And if there's anything I can do for women and men, it's to tell them that they're valued and that they're rare and that they're important. That's what it means to me."
In an interview with Jimmy Fallon on The Tonight Show, the Disney Channel alum said she knew early on in the production process that "Rare" would be the titular song.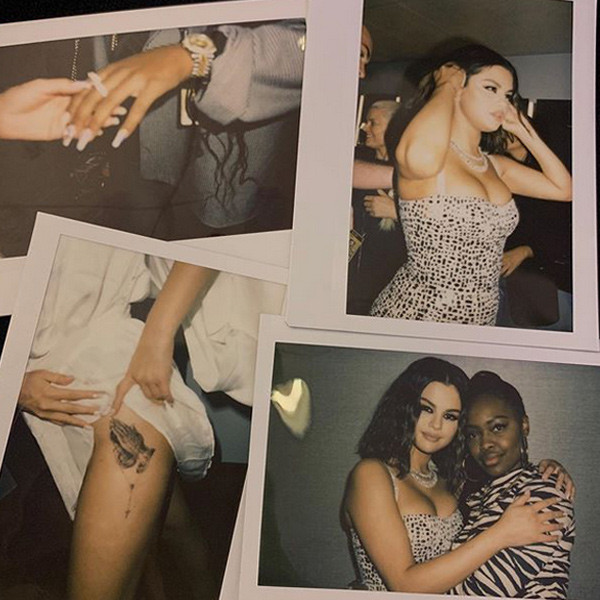 As she explained, "We worked on 'Rare,' and I just said before we finished anything, 'This is gonna be the name of my album.' The word is so special, and it means a lot. And I think in this time where everyone is obsessed with feeling like they need to look the same way or get things done or whatever it may be. Obviously, I don't judge, I'm just saying there are some girls who are hurting because they feel like they don't fit in, but this word is eliminating that, because you weren't meant to look like everyone else. You're meant to be who you are, and that's unique and that's rare."
This isn't the only ink Gomez has gotten in the last few months.On Jan. 10, she revealed a new tattoo on the back of her right arm that honors the date of her kidney transplant. Her friend, Grown-ish actress Francia Raisa, has the same tattoo, as she was Gomez's kidney donor.
During the 2019 American Music Awards in November, the "Lose You To Love Me" singer debuted her large thigh tattoo on Instagram. The post itself showed various photos taken as she prepared to perform at the award show, with one of the photos showing Gomezpulling up her clothes to showcase the set of praying hands holding a rosary. She credited Bang Bang NYC for the ink.
"The tattoo is a traditional pair of praying hands with a rosary. She had rehearsals for the AMAs [on Thursday] and she was exhausted so it was a little hard for her to sit but she braved through it," Bang Band told E! News at the time. "They did the tattoo at her house. She had some
some friends with her and they watched Christmas movies while doing the tattoo. It was just an all around good time. She didn't talk about the meaning or why she wanted the tattoo but she has wanted the piece for for awhile and they finally made it happen."
New year, new album, new Gomez ink!